How to Repair Fireplace Brick in a Mobile Home?
A fireplace can be a beautiful focal point in a room. However, the brick that makes up a fireplace can get damaged over time. This can lead to a crack in the mortar. Fortunately, there are some easy ways to repair a cracked brick. With a little elbow grease and a little creativity, you can breathe new life into your brick fireplace. 
(Looking for a propane fireplace technician? Contact us today!)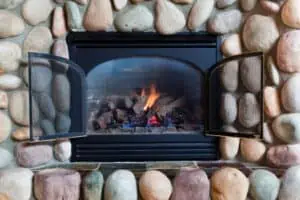 The first step in fixing a cracked fireplace is to remove the damaged brick. You can use a masonry chisel to chip out the brick. If the crack is more than half an inch deep, you may want to hire a professional chimney contractor to do the work. 
Once the damaged brick is removed, you will need to clean the crack and surrounding area. Use a plastic-bristled brush or a fiber-bristled brush to clean the surface. Wipe off any excess cement with a damp sponge. After you have cleaned the area, lay down a canvas drop cloth. This will help to keep dust from accumulating and will also ensure that you have a clean working area. 
Next, you will need to repair the damaged brick using a fire cement. Most types of cement will fail when exposed to extreme temperatures, so it's important to use a material that is durable. For this purpose, you can buy a refractory caulk that can be used to bond the bricks together. 
Repointing a mortar joint is another common fire brick repair. It is easy to do, and can give your fireplace a brand new look. Just be sure to follow the directions for the type of mortar you use. Ideally, the mortar should be mixed with water and have an oatmeal consistency. Be sure to leave at least one day for the mortar to dry. 
Another common way to fix a cracked fireplace is to replace a section of the fireplace with a prefabricated panel. These panels are usually sold by the manufacturer. They can be cut to fit the dimensions of your fireplace. Although a panel can be installed in a do-it-yourself project, you will need to make sure that you choose the right material for your fireplace. 
Fireplaces can be made of a variety of materials, including metal and masonry. They require regular maintenance, and some areas of the fireplace may need to be reinforced from time to time. In the event that you need to replace portions of the fireplace, it can cost you several hundred dollars. 
Bricks are a common material for fireplaces. However, the older they are, the more likely they will crack or fall. In addition, the heat from a fireplace can cause the materials within the fireplace to crack or break. Old, unreinforced masonry can also break in earthquakes. Whether you are planning on renovating your fireplace or simply replacing it, be sure to follow the proper techniques to ensure your safety and that of your family. 
If you decide to install a panel over your brick fireplace, be sure to select a durable material that will not damage the stone or brick. If you are looking for a decorative alternative, there are a wide range of tile and decorative materials available. Tile can be purchased in a range of colors and shapes. To complete your makeover, you may also want to consider painting the fireplace. There are a variety of different paints and stains that can be used on unfinished red brick.