How to Repair a Stone Fireplace?
If your stone fireplace is in need of repairs, it's a good idea to contact a masonry repair expert. This will ensure that any issues are corrected before they worsen. 
(Looking for All Valley Fireplace repair? Contact us today!)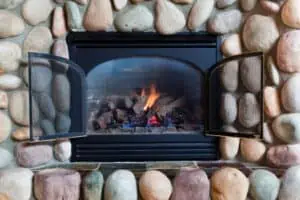 Stone fireplaces are one of the most sought after features in the home. However, they are also susceptible to wear and tear, especially the mortar that holds them together. Regular cleaning and maintenance can help minimize the need for expensive repairs. 
One of the most common problems with stone fireplaces is the presence of smoke. Cracks in the mortar or chimney cover can allow smoke into the room. Smoke can be harmful and could be life threatening. A ventilator can solve this problem. It's also a good idea to inspect the chimney cover regularly to prevent leaks. You can also apply citrus peels to discourage creosote from forming. 
Sealing cracks is another common stone fireplace repair. Cracks in masonry can be caused by aging, heating and cooling cycles, and settling dirt. To protect your family and home, seal any cracks before they cause more damage. 
Adding a refractory heat-resistant caulk is the best option. Sealants are designed to protect the mortar of a stone fireplace from intense heat. Once the caulk is cured, it will keep the fireplace in place. The caulk should be used in areas where it is exposed to fire, such as on the chimney cap or inside the fireplace. 
Another type of fireplace repair involves re-pointing the mortar. This restores the cohesive stone appearance of a fireplace surround. Before repairing the mortar, you'll need to sand and clean the surface. Using low-grit sandpaper, you can sand out any scratches. Alternatively, a paintbrush can be used to remove any loose debris from the fireplace brick. 
Depending on the extent of the damage to your stone fireplace, it may be necessary to replace the stones. Before installing the new stone, it's important to wiggle it to make sure that it covers the area properly. Afterwards, it's a good idea to leave it overnight to dry. 
If your stone fireplace is in need of repairs, you can get a free estimate from a professional. Many homeowners spend as little as $200 to repair their stone fireplace. However, you should get a quote from several contractors before deciding who to hire. Choosing the right contractor will depend on the scope of work. 
Some of the most common stone fireplace repairs include sealing cracked bricks, waterproofing, and repairing cracks. These repairs can be done by a professional or a homeowner. When it comes to repairing a stone fireplace, you'll need a few tools to get the job done. In addition to the tools mentioned above, you'll need a sponge, a brush, and a scrubbing pad. After you've cleaned the stone, you can re-seal the mortar and re-point the mortar. 
Aside from repairing cracked bricks, sealing cracks, and waterproofing, there are other options for you to consider. For example, if you find that the corbels on your Carrera Mable Fireplace are falling off, you might need to replace them.