How to Start an Electric Fireplace?
Electric fireplaces are easy to operate and can be started with a button or remote control. They are a popular choice for homeowners who want to enjoy the look of a wood-burning fireplace without the hassle. However, it's important to understand how to use them properly so that you can enjoy the added warmth and ambiance that they provide for your home. 
(Looking for"Wood Burning Fireplace Repairs"? Contact us Today!)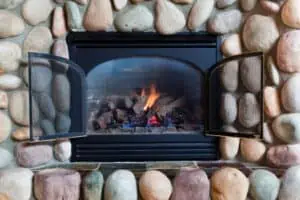 First, you'll need to plug the fireplace into a wall socket. This will allow you to turn the heat on and adjust the thermostat setting to get the best results from it. You'll also need to switch the unit off when it's not in use to prevent wasting energy and causing a fire. 
If you have a gas fireplace, start by locating the round, a decorative gas valve that's usually located on the bottom of the fireplace. You can use a key to open the valve, but you might need assistance if it's too far from your location to reach with a lighter. 
You'll also need to locate the pilot light, which is a small flame that lights when gas is released. If you're unsure of how to find this or how to light your fireplace, it's best to consult an owner's manual. 
Some modern gas fireplaces have a built-in control panel that allows you to ignite the burners and control the flames. These controls are often hidden behind a screen or decorative panel that you can remove to access them. 
Next, you'll need to find the ignition switch–a red button near the control knob or a switch labeled "ignitor." Clicking this once every second will start the flow of gas and light the pilot. This may take a few tries, so make sure to be patient. 
Once you've found the ignition switch, twist it to the pilot position. You'll then need to hold the control knob in place until you hear the hissing sound of gas coming out the valve. If you're unsure of how long to hold the control knob, it's a good idea to call for professional help. 
Most electric fireplaces have a thermostat dial that can be adjusted to control the temperature of the flames and heater. This is a useful feature that can save you money on your utility bill by reducing your energy consumption and heating the room accordingly. 
You should also be able to adjust the height of the flames by moving the key on the fireplace. This is a great way to customize the appearance of your electric fireplace and create the perfect ambiance in any room. 
Another feature that can be a bonus for many owners is the holographic flame effect. This feature is designed to mimic the look of real flames while also being incredibly safe for use around children and pets. It's especially convenient to have a fireplace with flame effects when it's cold outside because it can be difficult to keep the space warm enough to enjoy the benefits of an actual fireplace without risking injury and damage.