What is a Gas Fireplace?
A gas fireplace is a type of stove that burns natural gas to provide heat. It is similar to wood-burning fireplaces but is more convenient, safer, and less expensive to run. There are several types of gas fireplaces to choose from, each with different features and options that can suit your home's design. 
(Looking for "gas fireplace maintenance"? Contact us Today!)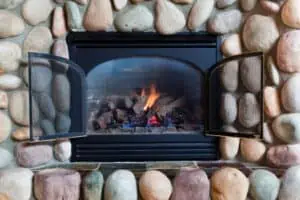 There are two main types of gas fireplaces: vented and ventless, with each having its own benefits and drawbacks. Understanding the differences will help you decide which one is right for your home. 
Vented (or sometimes called "B-vent") gas fireplaces require a chimney or other venting system to carry exhaust gases and fumes outside of the house, which can be an attractive feature for some people. However, a chimney can also be an expense and a health and safety hazard. Unvented (also called "vent-free") fireplaces don't have any chimney or other venting system and empty directly into the room. 
These fireplaces are a popular choice for many homeowners. They come in a wide range of styles and can add charm to any home. They are especially appealing to those who love the warmth and ambiance of a fire, but don't want the hassle of dealing with the mess and maintenance that comes along with a traditional wood-burning fireplace. 
They are also an excellent option for those who are concerned about carbon monoxide emissions from their fireplaces. These units have safety sensors that shut them off if the oxygen level in the room is low or if the pilot light goes out. 
Some models have a blower built-in to circulate the warm air around your home, allowing you to keep other rooms in your house at a comfortable temperature without requiring the use of another heater. This is particularly useful for larger open-concept family rooms and basements, where space can be limited. 
Most modern gas fireplaces come with a variety of accessories to customize your fire, including log sets, ceramic fiber logs, fire glass, and river rocks or fireballs. Most also offer a remote control that allows you to change the flame height, color, and intensity set a timer or turn on/off your fireplace from your smartphone. 
You can also get gas logs that mimic the look of real wood and offer more realistic flames. These logs are available in a variety of shapes and sizes, as well as in various finishes. 
Depending on the brand, some models can also have LED or glow-in-the-dark logs. They are a great way to add interest and color to your fire display while helping you create a cozy atmosphere for family and friends. 
Other fireplace models have built-in speakers, so you can play music while you watch the flames. They can also be controlled by a remote or wall switch. 
Gas inserts are a popular alternative to traditional fireplaces and add an even more elegant, contemporary touch to your home. They are easy to install, don't require a traditional fireplace hearth, and can fit into most existing fireplaces.