When to Repair a Metal Fireplace?
If you want to make sure your metal fireplace is safe to use, you should have it repaired at least once in its life. Cracks and rust can develop in the firebox over time. They are a safety hazard because they allow gases to escape into the home. The best way to avoid these problems is to have a professional repair the fireplace. 
(Looking for gas fireplace insert maintenance? Contact us today!)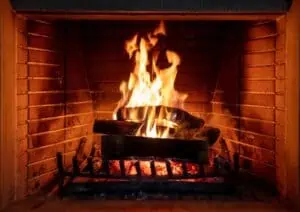 Fireplaces come in many styles and materials. There are metal, masonry, and prefabricated. Regardless of what type you have, the materials used will deteriorate over time. In addition, the heating and cooling cycles can cause the material to break down. 
The mortar that is used to build your firebox can wear out over time. This is due to contraction and expansion. If you notice that your mortar is cracking, you can use a special high temperature caulk to fix the problem. But if you find that the damage is too serious, it may be a good idea to replace the entire firebox. 
Brick and mortar can also be damaged by moisture. Water is absorbed by the bricks, so it expands and eventually chips away at the mortar. As a result, it can cause the fireplace to crack or warp. To prevent this, it's important to clean the grout and remove any excess ash. 
Fireplaces can be a great feature to your home. They can add beauty and comfort in the cold weather. However, they need regular cleaning and maintenance to keep them working properly. You'll also want to ensure that your firebox is free of any cracks and holes. 
Some of the most common firebox repairs involve replacing the panel and mortar. When this occurs, you should contact a certified chimney contractor to perform the work. After all, it's not uncommon for fireboxes to need replacement after a few years of use. 
Refractory panels are an important part of your firebox. They line the inside of the firebox and protect the exterior structure. Prefabricated refractory panels can be easily removed and replaced if necessary. Also, you can buy aftermarket fireplace panels that fit your current unit. 
Masonry fireplaces are typically made of firebricks. They can be laid in a vertical pattern or in a herringbone pattern. Depending on the design, they can be used for a modern or antique look. 
While it's possible to repair cracked and rusted metal parts of your fireplace, it's much more effective to replace them altogether. Older fireboxes often have a few corroded bricks. Once these have reached this point, the only way to avoid further corrosion is to replace them. 
A cracked or rusted firebox can be a safety hazard, and it can even pose financial risks. Even small cracks can let heat transfer into the home. That means that the ignition point might lower, causing the fire to start outside of the fireplace. 
You should be able to determine whether you need to repair your metal fireplace's firebox by performing a visual inspection. Any damage should be addressed promptly, as it can lead to major problems if left untreated.